As bushfires spread throughout Australia in an unprecedented crisis, one that is still creating unfathomable destruction, media and social media spread news, content, conversation, concern and action around the world. The unfolding emergency engaged the world so deeply that #AustralianFires trended on Twitter in 158 locations, all around the globe. Instagram shared over 62K posts on #AustralianBushfires and content shared with #supportingaustralia received over 2.1M views on TikTok. Facebook may receive a lot of criticism but proved to be an invaluable tool not just for storytelling and connecting both local communities and the world, but for providing practical, on the ground support for emergency crews.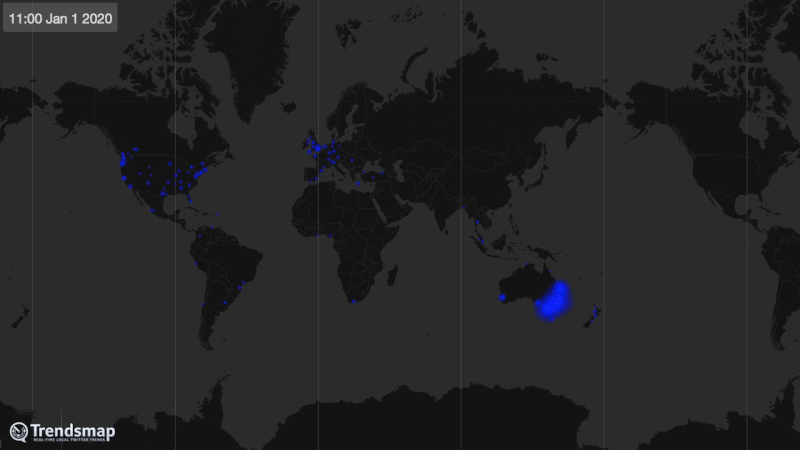 TrendsMap, Australian Bushfires 2020
How we react in an unprecedented crisis can be unpredictable, and what we've seen on social media has been everything from the expected to the surprising to unprecedented, in its own ways. The power, features, potential, benefits, risks and problems of social media have all played crucial, multi-layered roles in the response to the bushfires, both locally and globally.
We examined the role of social media in the Australian Bushfire Crisis and found valuable insight in its use by both the public and emergency services, in the response to this emergency. There may not be a strategy behind almost every aspect of social media being used to bring the world together in support, but its use as a news, storytelling, community engagement, emotional conductor, supports and emergency services tool shows the potential, power and diverse capabilities of social media – and why it's valuable to consider when planning and developing strategy.
1. Crisis Response 
2. Storytelling and Content
3. Fake News
4. Fundraising 
5,Community and Connection
6. Influencers and Celebrity 
7. Activism and Events
Crisis Response
Courtesy of FRNSW Ingleburn: https://www.facebook.com/RosscoUnofficial/videos
Facebook has played the broadest and most impactful role in responding to the bushfire crisis – creating awareness, building momentum, engaging the public, connecting communities, raising funds and supporting emergency services through the platform's crisis response tools. In addition to safety check- ins and collating news and updates, Facebook Disaster Maps helped emergency services make informed decisions about risk assessments, resource allocation and evacuation planning. This type of disaster support is just one initiative of Facebook's Data for Good project.
Facebook's Disaster Maps provided the RFS real time population and movement data by location ( post code) – using Facebook's location data, collected from mobile devices. The RFS then overlaid this location data with real time fire tracking, enabling them to identify locations nearest to fires by population size and risk, and allocate services and crews as best needed. Combining this real time location data from disaster maps with real time fire data enabled the RFS to make accurate risk assessments using the most up to date data, and minimise areas being under and over resourced, and fire crews being unnecessarily overstretched or wasted. 
There's a lot of discussion and concern about the collection and use of data by Facebook and other digital and social platforms, it's refreshing to see data used in such a positive, constructive, unexpected way.

Facebook Disaster Maps, Australian Bushfires 2020
Storytelling and Content
Content and stories are the fuel of social media, and while media shared news and updates about the broader impact and movement of the fires, the personal stories shared by people directly affected by them deepened our understanding of the experience. With content being shared in real time we were able to feel more connected, more in the moment and closer to the emotion of living it – as it happened. It's perhaps this living in the moment that deepened our understanding of terror, and our empathy for those in the fire path.
As #AustralianFires trended on Twitter, personal stories and insights like those from historian Bodie Ashton, were also shared; Instagram saw over 62K images, videos and IG Stories shared using #AustralianFires and #Australianbushfires. Stories and experiences of the fires also spread across TikTok, with #scomo ( 21.9M views) and #supportingaustralia ( 2.1M views) two of the most popular trending bushfire related hashtags.
The personal experiences of the fires wasn't the only thing the world was talking about though. Criticisms of Government, and specifically Scott Morrison trended on Twitter for weeks, both in the serious tone of the crisis on #sacktheprimeminister and in light hearted, dry humour, showing the frustration people felt, on hashtags including #scottyfrommarketing and #scomo. This frustration, and the images and videos of the devastation of life and land, were balanced with hope and the good news of animals escaping harm, the prehistoric Wollemi Pines being saved from potential extinction, and many more stories of community care at its best.
The New Batlow Hotel, Facebook
While anger at the perceived inaction of Government added to the uniting nature of personal stories, our Government and PM seemed to drive the wedge of discontent even wider at every step. The Federal Liberal Party's infamous "Stepping up to the Bushfires" video is a valuable lesson in the need for transparency and honesty, and how easily people can see through a manufactured narrative, especially when it feels like a manipulation of the truth. Unfortunately for the PM, Stepping up to the Bushfires was perceived by the public as a personal, and undeserved, self congratulatory political ad, and felt more inspired by the military propaganda videos of Starship Troopers, than a response to a human and national emergency.
There's an ancient Native American proverb that says "those who tell the stories rule the world" and there's no question that the stories from people facing the fires were personal, raw and powerful storytelling – and the world responded.
Fake News
The PM wasn't the only one publishing content that was debatable of course, and It hasn't all been good, or true, news from the bushfires. On Instagram there were fake fundraising scammers: Facebook and Twitter were flooded with CLARA conspiracy theories, claiming the fires were part of a planned government strategy; the #ArsonEmergency trended on Twitter – which was quickly refuted and clarified by the AFP; there was confusion about the Liberal Party's "I stand with Scott" Facebook frame – created by the LNP for the 2019 Federal election, not in response to the fires as claimed by many; the stories criticising the Green's policy on back burning and complaints and bias about the lack of support from other countries proved how little research had been done; and images and photos that were clearly photoshopped or from other fires were shared without fact checking.
Misinformation about the fire crisis was expectedly spread .. and facts were, unsurprisingly, not checked before sharing.
The response to fake news
Fake news and sharing unverified misinformation, deliberately or inadvertently, is nothing new for the internet. The response it began to receive on social media was however surprising, and grew stronger the longer both the fires and the misinformation grew. The critical response to fake news saw people sharing links in comment threads to fact check and correct claims and challenge the fake stories – in place of the usual approach of simply arguing and name calling; media including Buzzfeed , SBS, ABC and Vox.com published content to break down a range of fake stories and perhaps most surprisingly was the news.com senior journalist publicly criticising their employer for their positions and practices.
When The Project tried their hand at fake news for cheap views, their "not my Prime Minister" promo was heavily criticised on all fronts – from the public, media and Government – as being deliberately manipulative, unethical, trouble making and unhelpful in the middle of a crisis.
The message seemed clear, if you wanted to engaged people in criticising even the most unpopular of politicians, truth was the best path to take.
This demand for more care and responsibility, and the collective challenging of fake news by both the public and media is rare, new and surprising. This call for publishing and sharing more real, verified stories is refreshing – and hopefully this trend of demanding authenticity, fact checking and a trustworthy truth continues.
Fundraising (Engagement)
As the stories reached around the world and the impact of the fires started to feel personal, it became clear that people wanted to help. Not-for-profits including the RFS, WIRES and The Red Cross created their traditional fundraisers, but Australian's had a tool we've not had in previous emergencies – Facebook Fundraisers. This gave people the power to personally fundraise for their favoured charity in the simplest, and most shareable way, possible. We've seen a steady stream of people running "Birthday Fundraisers" since Facebook launched the feature in Australia in late 2018, but the fires saw thousands take fundraising, and the choice of who to donate to, into their own hands more than ever before. The results are phenomenal, and more than anyone could have anticipated.
More than 19,000 Facebook fundraisers have been created in response to the fires since November 2019.
Over $73M has been raised using Facebook to date. 
Donations have been received from 75 countries – showing how eager the world was to participate in a meaningful way. 
More than 250 non-profit organisations were nominated as fundraiser recipients, to help with their relief and recovery efforts.

Until now Go Fund Me has typically been the most popular platform for crowdfunding and fundraising, and with 6,000 fundraisers collecting an impressive $23M in donations, the contribution is not insignificant. In comparison though, Facebook had more than x 3 times the number of fundraisers active, and raised more than x 3 times the amount as the efforts on Go Fund Me. It's a significant shift, and new dominance.
While not all organisations have a need for fundraising, the success of Facebook fundraisers tells an interesting story of community engagement and participation. The right combination of advocacy from passionate community, eager participation from engaged audience, and simplicity in participation and process has the power to deliver strong rewards.
Even before the fires the Fundraising Institute of Australia had been surprised by the use and effectiveness of Facebook Fundraisers, although there are many reasons they shouldn't be. Traditional fundraising and giving models are losing effectiveness and charities have seen donations dropping for some years now, but people still want to support causes they believe in. We also want more control, flexibility and choice in almost every aspect of our lives. Facebook fundraising simplifies the entire process by integrating it into the platform, from donation collection to disbursement. It also creates a trustworthiness few other platforms have by partnering with PayPal to manage the funds and by not charging any fees for charity fundraising. This all makes supporting a charity or cause as personal and direct as it is simple, practical, shareable and secure.  
Community and Connection
Facebook groups have played a key role in communication and co-ordination during the crisis. Local communities created groups to share updates about the progress of fires threatening their area quickly, easily and effectively. They've also been used to keep family and friends updated with ease- and minimal calls, messages and worry: In two weeks the group Tradies for Fire Affected Communities built a network of 12.5K tradies eager to donate their time, skills and effort to help with repairs and rebuilding, and some of the other many groups were created to help with animal evacuation, share bushfire images and stories and co-ordinate RFS efforts across different areas.
Facebook Groups create an intimate, uninterrupted, easily accessible environment for people with a shared interest to connect online. The varied uses of hundreds of groups created during the fires shows the power, value, immediacy and flexibility they offer in connecting communities – and are great examples of why they should be a consideration in social media planning, from research to community building. 
Influencers and Celebrity
Influencers receive a lot of criticism, perhaps because the definition covers such a broad spectrum of people – from experts with experience and genuine influence to marketers promoting products – and influence itself can be hard to define. We've seen Influencers and celebrities at their best, worst and most basic as they have added their voice to the conversation.
While some have sent thoughts and prayers and others donated, QLD's Tammy Hembrow and Sarah's Day were criticised for commercialising the crisis by disguising product promotions as fundraising. Byron Bay's Mitch Gobel shared the reality of evacuation as he fled from his burning property live on Instagram Stories, The Naked Philanthropist raised funds with nudes, the world's most charitable band Metallica donated $500K and, perhaps the most unexpected – even drug dealers were joining the fundraising efforts, in their own way, with #bagsforbushfires donating 10% of weekend sales to the relief efforts..
Pity the poor #Australians, their country ablaze, and their rotten @ScottMorrisonMP saying, "This is not the time to talk about Climate Change. We have to grow our economy." What an idiot. What good is an economy in an uninhabitable country? Lead, you fuckwit!!

— bettemidler (@BetteMidler) January 3, 2020
Her Majesty The Queen has sent a message of condolence to the Governor General of Australia, Governor of New South Wales, Governor of Queensland, and Governor of Victoria and to all Australians. pic.twitter.com/ZNBAHW21az

— The Royal Family (@RoyalFamily) January 4, 2020
In all the influencer and celebrity efforts there are two women who stand out and define the true value and meaning of influence, more than any others, because of what their actions inspired, encouraged and achieved.
Celeste Barber has built her influencer and subsequent media and comedy careers, and her audience, on  great, relatable, real comedy. She has a style that makes her feel like a great friend. Using her influence for good she began a Facebook fundraiser, with a goal of reaching $50K. In a sign of the respect, power and genuine influence that she has, and clearly underestimates, Barber's fundraiser reached around the world and raised over $51 Million – setting a new record for Facebook as the most successful fundraiser on the platform in the process.
Pink wasn't the first celebrity to donate to the fire relief efforts, Russell Crowe donated $200K in late November, raised from auctioning a Rabbitohs cap. However Pink had an influence on her celebrity peers that no-one else had managed. Whether it was a matter of timing, profile, audience, donation, message, or a combination of these factors, Pink's $500K donation was like a call to action. Within hours celebrities around the world were giving donations, many equal to her own, and more. Even Kylie Minogue joined the celebs donating, but as a local it's curious she was following, instead of leading, the charge.
I am totally devastated watching what is happening in Australia right now with the horrific bushfires. I am pledging a donation of $500,000 directly to the local fire services that are battling so hard on the frontlines. My heart goes out to our friends and family in Oz ❤️ pic.twitter.com/kyjDbhoXpp

— P!nk (@Pink) January 4, 2020
https://twitter.com/pink/status/1213350834672586752
Activism and Events
It's fair to say the public's response to the management of the bushfire crisis by state and federal governments has been less than positive. The tone online has been a mix of anguish, helplessness and despair at the fires; frustration, anger and disbelief at Government; and compassion, empathy, care for those affected….and pure admiration and gratitude for emergency crews on the front line.
As social media filled with calls to #sackscomo and #dismissthegovernment, and ridicule #scottymarketing, the frustration generated co-ordinated protests around Australia on January 10.  Just as social media connected the community as the sentiment grew online, it helped extend that connection offline – helping to spread the word, grow participation, co-ordinate smaller social groups, and seamlessly take the frustration on the screen, into action and protest on the street.
Cover image courtesy of Eden Hills Country Fire Service
australian bushfire, bushfire, crisis management, social media